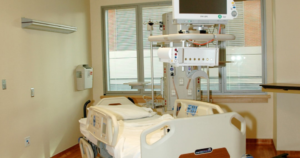 As anyone in the medical field knows all too well, hospital equipment can be expensive. Thus, hospitals, clinics, and other types of medical organizations utilize refurbished hospital beds. Purchasing refurbished beds eliminate various unnecessary costs to the hospital or medical facility.
The Health Care Industry's Shift To Sustainability
In recent years, the healthcare industry has shifted towards sustainability and have become conscious of their environmental impact. Because of the many different types of equipment and logistical factors that are required for a hospital to operate, these sustainability measures may seem difficult to implement. However, hospitals are becoming more strict with their requirements when purchasing medical equipment, including hospital beds, and green cleaning products that are healthier for the environment.
With this growing awareness towards sustainability in the healthcare industry, many hospital's purchasing managers have required that their products are sustainable. The pioneers in this effort have been medical suppliers offering refurbished beds to customers who have sustainability in mind, and want to lower their carbon footprint. Refurbished hospital beds are becoming increasingly popular, as they reduce waste and are like-new in appearance and operation. Some of these beds include Intensive Care Unit (ICU) beds and birthing beds.
The Benefits Of Refurbished Hospital Beds
As hospital budgets continue to shrink, It is estimated that 2.5 million hospital beds are in use nationwide, thus, purchasing refurbished hospital beds can save businesses thousands annually. Refurbished hospital beds are essential to a sustainable and economically conscious business model. Refurbished hospital beds are painstakingly examined for any imperfections or weaknesses, ensuring all mechanisms are operating properly. The beds are extensively cleaned, and receive new parts if the existing parts are compromised.
One of the most popular benefits of purchasing used hospital beds is the significant cost savings. Purchasing refurbished hospital beds as opposed to new can save hospitals 50% compared to purchasing new. These cost savings will enhance your business model, as these savings will be passed on to the patient, which is attractive, as the average hospital stay costs well over $10,000.
Due to their quality and versatility, Hill-Rom patient bed and Stryker hospital beds are some of the most common hospital beds being refurbished. Their quality mechanisms and focus on comfort are unmatched among others in the industry.
It is evident that purchasing refurbished hospital beds are the most sustainable and cost-effective way to operate a hospital. They will improve efficiency by providing additional beds, save your patients from excruciating medical costs, and further improve your organization's economic viability.